What's the Best Electric RC Boat?
You're a hardcore RC Boat hobbyist. You care about the performance of your boat. You always want the best for your vessel but don't want to deal with the hassle of gasoline or nitro to power your engines. You want to charge your battery, flip a switch and be off to the races. Obviously, for the low maintenance boater, electric is the way to go. However, finding the best electric RC boat can be tough, so we at RemotorBoater.com have created this one-stop-shop, an all-inclusive guide to help you find the electric boat that fits your style, boating experience and racing aspirations. If you are looking for a hobby level RC Boat check out our Ultimate Electric Boat Guide directly below. If however you would like to find the best toy grade electric RC Boat you can go here.
Ultimate Electric Boat Guide
Types of Electric RC Boats
Electric boats come in two main varieties: brushed and brushless motor systems. With this it is widely known that brushless motors are superior than their brushed counterparts in terms of speed and efficiency, this improved performance comes at an obviously elevated price. For boaters just getting started in RC Boating you may wish to try out a brushed system before upgrading to the more powerful electric RC brushless boat to see if you truly love the hobby. For more info on the differences between these two types of motors systems you can check out our post on the subject. And just to dispel a common myth among entry level boaters you need to know that elite electric and gas powered RC Boats boast nearly identical speed and performance.
Advantages of Using an Electric Boat
No need for fuel.

. Purchasing or mixing your own gasoline for your boat can be quite costly and a major drag. Electric RC Boats are more efficient than their gasoline counterparts and can save your serious money in your boating endeavors. This is especially important in today economy with the ever increasing gasoline prices sucking all of our wallets dry and ripping our heart out.

Less maintenance. It is easy. After an fun day of racing your boat on the water the last thing you want to do is have to clean the engine and components. With fuel powered RC Boast there is the hassle of maintaining the engine, just like on your automobile to keep it running smoothly for quite some time. The superior electric motors have little to no wear and tear from extended use and are built to last insane amounts of time.
High performance.

Even though electric boats in the past may have been inferior to their gas boat cousins this is no longer the case. Significant technological improvements in the areas of battery power, storage, and electric motors have made brushless electric RC Boats equal to and arguable greater than gas powered boats of similar stature.

Reduced pollution

. While some of you may not appreciate this, it is extremely important to me personally. Electric vehicles and electric boats are generally much more environmentally friendly than their carbon dioxide producing rivals.Electric boats unlike gas ones do not disturb nature with unnecessarily loud engines, leak any gasoline into water supplies or release harmful chemicals into the environment while running.
Reviews of the 5 Best Electric RC Boats
The Pro Boat Impulse 31 V2 is one of the absolute best electric RC Boats available. Hobbyists seem to agree with our position that this is a supremely awesome boat to own.

Based off the highly successful first version, this RC Boat features an 1800 Kv Dynamite marine brushless water-cooled motor which absolutely launches the craft through the water at blistering speeds of 50+ mph. The speed however is not an issue due to excellent engineering design by the experts at ProBoat who have created an extremely durable fiberglass hull capable of punishment.

Coupling the intense speed with the superior handling and performance provided by the state of the art Spektrum 2.4GHz transmitter and 80 amp water-cooled brushless ESC make this boat an elite level racing craft. The fact that the Impulse boasts an innovative LiPo to NiMh battery switch makes the boat even more attractive for boaters looking to change between high and low performance levels.
Though the price of this boat at around $400 may be a bit intimidating at first, the quality and craftsmanship of the Impulse ensures this electric boat will still be running strong for many many years to come. Add to that the amazingly aesthetic red and black design of this racer and you have a great deal on an even better boat.
The Aquacraft Supervee 27R is one of the best electric RC Boats in existence. It's another expensive one, but again, it's very well-engineered and would be a great investment for any hobbyist looking to get serious about RC Boating. Any truly for the money this boat is approximately $100 dollars cheaper than any of the rest and boasts similarly awesome performance.
So what's so special about this bad boy? First of all, the beautiful 27" hull is powered by its water-cooled brushless 1800 Kv motor and goes 40+ mph directly out of the box without any alterations. If you feel adventurous you could easily performance some upgrades to take the speed out of this world without damaging the durable fiberglass hull.

The internet agrees that this electric monohull boat is one for the ages and easily makes the list of the greatest boating choices available. Though the Supervee boasts electric speed, its phenomenal handling and ease of use makes it an acceptable choice for boaters of any experience level. Just make sure you have tons of room cause this baby races through the water like a bullet and could cause some serious carnage.
This officially licensed racing boat comes from the famed Geico racing team and is based off the full scale racing champion which utilized helicopter motors to achieve insane speeds of 200+ mph. While not quite that ridiculous, the Proboat RC Boat version is amazingly fast as well. The 29" speed fast electric boat is powered by
3630-1500Kv water cooled brushless motor which
shoots it through the water at up to 50 mph and can keep up with full scale jet skis.
A water-cooled Dynamite marine 60 Amp ESC is included to withstand the demands of this powerful performance craft and ensure ideal performance in all conditions. In order to allow for the speed and power of this boat, Proboat wisely chose to construct the hull out of extremely durable composite fiberglass. This offers benefits beyond pure strength and ruggedness in having less drag and weight than wooden hull counterparts and just looking spectacular. With that said the Miss Geico boat truly is an attractive craft. The electric yellow hull blazes across the water, making it both highly visible and offering an aggressive exteriour to your opponents.
Aquacraft Revolt 30 Brushless Speed Demon The Aquacraft Revolt 30 is a legendary electric racing boat in boating circles. The powerful 34" craft races through the water on the back of the explosive 1800kV brushless motor. This motor provides significant speed and horsepower while not limiting drive times to short high competition races and complements the 44x52 GrimRacer boat prop leading to excellent performance.

For individuals looking to take the speed and power up a notch, the Revolt 30 offers a spacious interior electronics cabin with the ability to upgrade LiPo batteries from the dual 2S LiPos to more aggressive models. This is made possible by an excellently engineered fiberglass hull to allow the boat to withstand the tremendous forces of high speed cruising. Additionally you should really see excellent handling and control benefits from the built in GrimRacer strut, turn fins, trim tabs, and rudder. The vibration isolators on the motor mount prevent unbalance and undesirable motion often attributable to high speed racing. The Aquacraft Revolt is a prime specimen of racing enthusiasts and is designed to compete and dominate in the IMPBA and NAMBA's popular P-Mono class. Whether you are already in the racing circles or just looking to tear up your local power, your best choice may indeed be the Aquacraft Revolt.
You are probably thinking this RC Boat looks absolutely crazy. You would be right. The powerful Motley Crew boat is the intersection of punk rock power and hardcore racing. The wild designs come straight from the racing champions of the past and speak a strong heritage about the boat.

This aggressive electric RC Boat rocks an 1800Kv brushless motor to whip past raving fans and reach the finish line in style. Combining all those horses with the sleek catamaran frame allows the Motley Crew catamaran to hit exhilarating top speeds of 40+ mph. In spite of this animalistic speed and aggressive design, the catamaran actually offers extremely precise turning and handling. Add to that the powerful fiberglass frame and you have an excellent RC Boat worthy every penny.


Before you get all high and mighty and decide that so-called toy level remote control boats are not for you you ought to dig a bit deeper into the facts. Though these electric boats are all brushed motor boats and cannot compete competitively with their brushless and hobby grade counterparts they are still an important part of boating and fun to use. The toy style RC Boats are all made of durable, lightweight plastic hulls which makes them extremely inexpensive and easy to transport.

Many of these boats still sport powerful(albeit less so) motors which allow for exciting cruising on the waters and lots of fun. For myself personally I got started with the Balaenoptera Musculus Electric RC Boat by Syma which is a pretty great boat for the money. In addition to being ideal for beginner boaters and kids to get into the game of RC Boating, toy grade boats are often ideal hull types for high level modifications. Without further ado we present our favorite electric RC Boats.
The Best Toy Grade Electric RC Boat Guide
Reviews of the 5 Best Toy Electric RC Boats
The Radio Ranger RC boat is one of the best electric toy RC Boats available. Beginners love this high
performance boat three foot long beast of a boat which races through the water up to 20+ mph with its aggressive 390 air-cooled motors.
The cool part of the Radio Ranger is that this innovative boat comes with an fishing pole attachment to allow RC Boaters to catch and reel in small trophy fish at the neighborhood pond. This versatility makes the Ranger immensely popular among children and is a hit for aspiring fishermen kids looking to take their game to the next level. Suitable for boaters of all ages and experience levels the Radio Ranger is truly a great boat for beginners looking to get more involved in the hobby and truly soar.
NQD Majesty RC Boat
The Majesty 800S is a perfect example of an amazing RC Boat. The 32" vessels long body and low center of gravity give it excellent handling and control properties and minimize fear of flipping. The boat is able to slice through the water at blistering speed of 20 mph from its explosive SC350 type racing motor. I don't know about you, but its sharp, flashy colors lend a certain air of cockiness and showmanship that I personally quite enjoy in my own boats. If you are going to absolute own the water, you might as well show it.

The Majesty is a great boat for hobbyists of any age and skill level. Its handling allows novices to quickly progress to high level boaters, yet its speed makes it an exciting drive for all ages.
Century Racer RC The traditional speed boat style and high performance have made the Century Racer RC Boat a crowd favorite among boating enthusiasts. This 29" Syma built craft utilizes dual SC 380 racing motors for high speeds up to 20 mph. Coupled cooling fans ensure this powerful boat doesn't overheat or become damaged and ensures quality cruising time after time. This is a great beginners boat due to its superior handling, recommended for kids 14 and older but perfect for anyone. Rest assured it comes with built-in safety functions to only allow operation on water, preventing possible on land accidents.
The K-Marine Dash dominates the water The highly detailed and realistic speed boat design beautiful glossy red paint make this craft a popular choice among hobbyists. The inexpensive craft comes equipped with powerful 370 twin motors and a cruising speed of 12 mph. This makes the Marine a great novice or children's choice, with absolutely no boating experience required.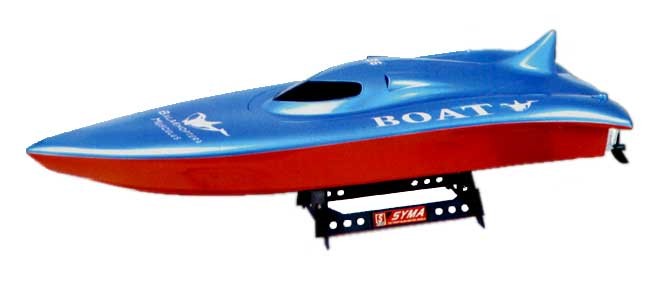 The Balaenoptera, named after the legendary blue whale of the oceans, is a formidable RC Boat. This may seem a misnomer, until one realizes the blue whale, largest of all Earth's creatures is also one of its most nimble. This RC Boat embodies its namesake with great handling and maneuverability. The powerful 23" watercraft is equipped with a 380 type racing motor and vectored steering design.
The Musculus is immensely popular, as it is a great selection for beginner to intermediate level boaters. Functionally this boat is great for children and even comes with an added safety feature, only being able to start its powerful dual motors when in the water.